According to a member of The Mandalorian cast, a certain Star Wars character was supposed to die in the series' second season.  
Not only was that the original plan, but The Mandalorian filmed this character's death before it was rewritten, allowing them to return for Season 3 and play a pivotal role in the Disney+ season finale. 
Star Wars Rewrote Mandalorian Character's Death
In an interview with Kristian Harloff, Bo-Katan Kryze's Katee Sackhoff revealed that The Mandalorian Season 2 removed a certain character's death at the last minute.
According to the Bo-Katan star, the Mandalorian Axe Woves "was supposed to die last year:"
"Axe, you know, we knew he was supposed to die last year. That was the thing that no one could talk about. There was this moment where he sacrifices himself in that episode. We shot it. In Season 2." 
Played by Simon Kassianides, Axe Woves is a member of Clan Kryze who made his Star Wars debut in Season 2's Chapter 11 "The Heiress."
He then returned for the last three episodes of Season 3 where, in the finale, he crashed Moff Gideon's ship into his Mandalore base, seemingly killing Giancarlo Esposito's antagonist. 
While Sackhoff never named the Season 2 episode, she did describe it while also noting there was "still a scene left" in that episode without him in it:
"And then they were like, 'It needs to be Din. Not him.' So then you shoot a person's death and then they take it out and then there's still a scene left and then everyone's like, where'd they go?"
From Katee Sackhoff's description, it sounds like Axe Woves' death scene would've occurred in Chapter 11.
A particular scene in that episode has Mando charging down a hallway toward stormtroopers, taking laser fire all the while. After being knocked off his feet from the assault, he manages to throw explosives at the Imperials, allowing Bo-Katan, Koska Reeves, and seemingly Axe, to advance.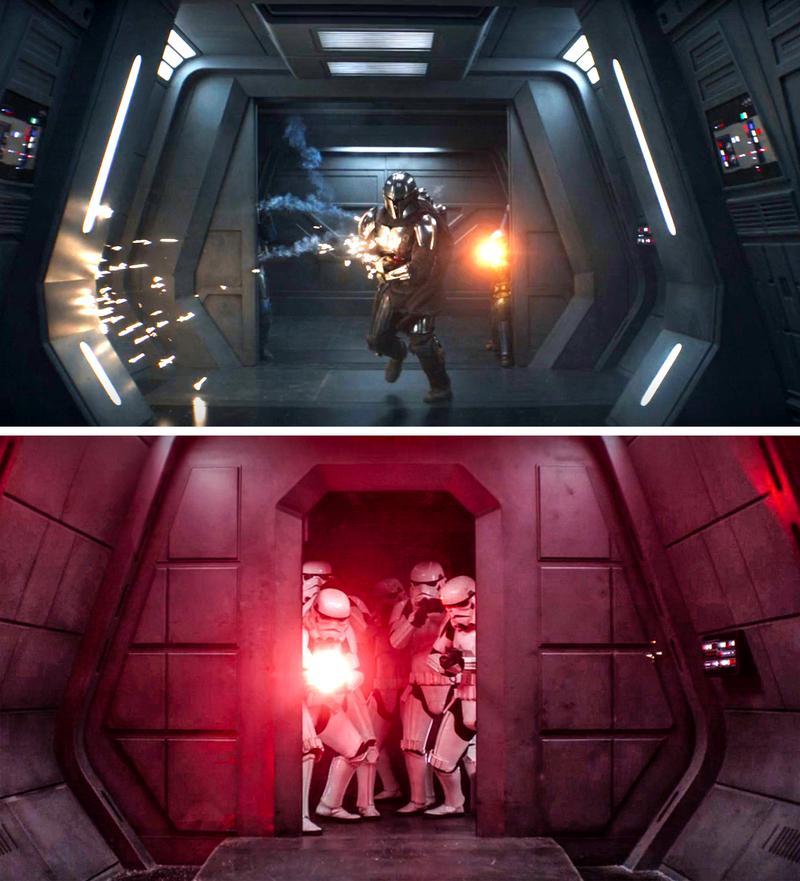 Since Axe is absent in the following scene, it's not hard to imagine that he was supposed to be the Mandalorian to take out the Stormtroopers, but at the cost of losing his own life.
The No Longer "Axed" Woves
When it comes to Star Wars characters whose fates were rewritten, Simon Kassianides's Axe is in good company. 
Originally, Oscar Isaac's Poe Dameron wasn't supposed to survive The Force Awakens. 
And, in The Mandalorian itself, Boba Fett was revealed to have survived his Return of the Jedi Sarlaac plunge after decades of fans believing him to be dead. 
Axe Woves' rewritten story is all the more interesting since he - not Mando, Grogu, or Bo-Katan - is who killed Moff Gideon in the Season 3 finale.
While this raises the question of who would've killed Gideon if the change hadn't been made, Axe's rewritten story may explain why he was randomly reintroduced in that bizarre Chapter 22 opener. 
Now that fans know about Axe's original story, it will be interesting to see if Lucasfilm continues to use his character in Season 4 of The Mandalorian and beyond.
All three seasons of The Mandalorian are available to stream on Disney+.