When Peter Parker's identity as Spider-Man was outed by Mysterio in the closing scene of 2019's Spider-Man: Far From Home, that was the least of his problems. Ensuing events involve being vilified by the press and the general public, a botched Doctor Strange spell, and a group of villains from across the Multiverse who all want Spider-Man dead.
Warning: Spoilers for Spider-Man: No Way Home follow.
And as it turned out, the magical spell of Strange's that Peter fouled up didn't just bring Multiversal villains to the MCU but Multiversal Spider-Men as well. The web-slingers realize that they must work together to stop this escalating threat and put everything back to where it's supposed to be.
A Fresh Behind The Scenes Look At No Way Home
A new video posted to YouTube shows B-roll footage for a number of scenes from Spider-Man: No Way Home. Have a look below for some key points from the video.
Fresh from his battle on the freeway with an enraged Dr. Otto Octavius, Peter Parker finds himself back at the New York Sanctum by way of Doctor Strange.
Doc Ock is understandably confused as he comes face to face with a Peter Parker who isn't the one he knows.
Doctor Octopus arrives on the scene during the filming of the now-famous "Hello Peter." scene.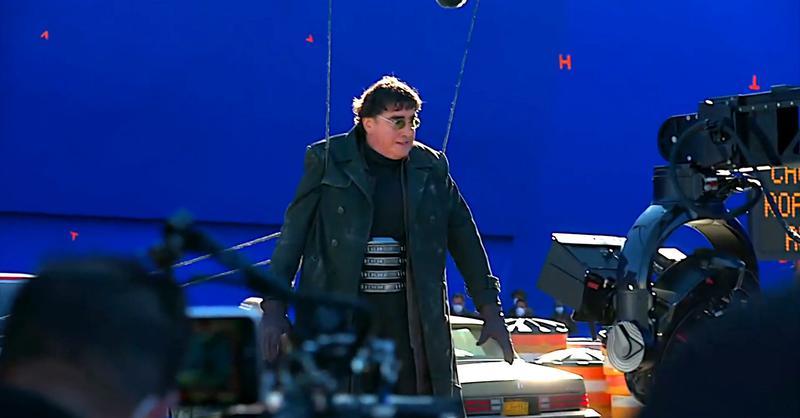 With his secret revealed to the world, young Peter Parker's life is all the more complicated. Here, he tries to enter his high school as a horde of press and protestors look on.
Director Jon Watts sets the scene for star Tom Holland and what appears to be his stunt double.
And here is the video where all these screencaps originated from:
A Peek Behind The Web
Obviously, with the inclusion of Tobey Maguire and Andrew Garfield's versions of Spider-Man appearing in the film still being treated as a secret by Marvel and Sony, neither of them are present in the B-roll footage.
Spider-Man: No Way Home is jam-packed with amazing, and sometimes shocking, moments and soars to such heights that fans might wonder how the MCU will ever top it in the forthcoming, but still untitled fourth Spider-Man film. But one thing's for sure: At Spider-Man's core is Peter Parker, a young man who always tries to do the right thing whenever and however he's able to.
Marvel Studios' Spider-Man: No Way Home has officially hit many theaters around the world.