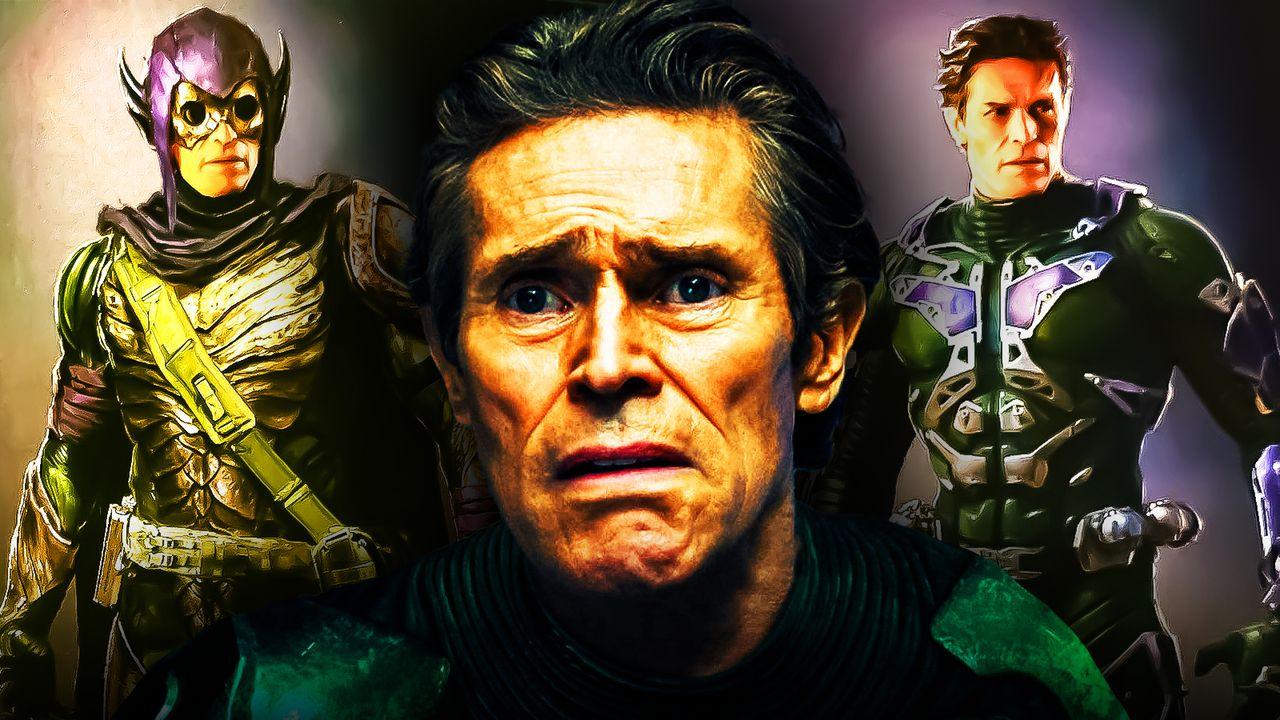 Ten new rejected designs for Willem Dafoe's Green Goblin in Spider-Man: No Way Home were just revealed.
Dafoe's return was easily one of the audience's favorite elements of the movie.
Dafoe's performance was so good that it even freaked out Tom Holland on set. Even Zendaya admitted that the Goblin actor "scared the hell out of everyone."
While the character ended up looking pretty similar to his original appearance in Sam Raimi's Spider-Man, he could have looked a lot different.  For one, he almost had re-colored parts of Iron Man's armor.
Rejected Designs for Green Goblin Revealed
The Spider-Man: No Way Home - The Art of the Movie artbook was just released, and in it were over ten different rejected designs for the iconic Green Goblin.
In one alternate version of the movie, Norman Osborn would have stumbled into a Damage Control facility where they were keeping old armor from the Dark Elves (first seen in Thor: The Dark World). He'd then go on to piece together a new outfit, giving him more of a goblin appearance, while rooting itself firmly into the MCU.
Another design featured a more post-apocalyptic approach and included vibrant orange goggles.
A similar variant to the above look shows off more of Norman's old suit, but badly damaged from his battles with Spidey.
This take is probably the closest to what fans got in the final movie, but it sports less additional equipment strapped onto Norman.
It looks like Green Goblin could have worn an entirely upgraded get-up, as shown here, with the villain wearing new high-tech purple and green armor.
While retaining his familiar green suit, another take on the villain included some drastically redesigned headwear that substitutes the mask for goggles.
This variant sees the baddie in some smoother armor and another alternate redesign of the villain's helmet.
In an alternate timeline, Green Goblin got to wear a full tactical look that seemingly got rid of all purple coloring—it's probably for the best this one didn't make the cut.
One artist explored the concept of Norman Osborn taking pieces of his glider and attaching them to himself.
This look, which sees Norman wearing some severely tattered clothing, features a callback to Iron Man 2's Hammer Industries.
Will the MCU Get Its Own Green Goblin?
While it would have been nice to see a more drastic overhaul of the character's look (like the Thor: The Dark World-inspired outfit), it's understandable that the creatives decided to keep the overall design in line with his original appearance.
The big question remains, when will the MCU's Norman Osborn show his face?
The character is such a big staple in Spidey's lore it's hard to imagine the Osborn name will be absent for much longer. Many fans have speculated that he might be the person behind buying the former Avengers Tower—though one would assume Willem Dafoe's Gobby would have taken notice of that while he was talking around.
Maybe if the Green Goblin is around the corner, the MCU could lean more into the character's Ultimate incarnation, as seen at the beginning of Spider-Man: Into the Spider-Verse.
While the villain might not be active in the MCU currently, the upcoming animated series Spider-Man: Freshman Year will explore an alternate timeline where Osborn was Peter Parker's mentor instead of Robert Downey Jr.'s Tony Stark.
The bad guy will also factor into Insomniac's upcoming PS5 game Spider-Man 2–though it's unknown if his Goblin persona will appear.
Spider-Man: No Way Home is now available to buy digitally.