DK Books' new MCU timeline saw Marvel Studios own up to a sizable Spider-Man: Homecoming continuity error.
As with most multimedia mega franchises, the MCU timeline is sprawling and complex. And yeah, there are a few errors. One of the biggest is found in 2017's Spider-Man: Homecoming, and long story short, mistakes were made.
The error concerns a certain, now notoriously incorrect time card placed near the start of the film. Audiences quickly pounced upon this continuity conundrum back during the movie's release and the whole ordeal has proven to be quite vexing for fans.
Official MCU Timeline Corrects Spider-Man Snafu
The new book from publisher Dorling Kindersley, Marvel Studios' The Marvel Cinematic Universe - An Official Timeline, sets the record straight on a screw-up in the chronology of the MCU.
In the opening flashback of Spider-Man: Homecoming, Adrian Toomes and his crew pull a salvage job, cleaning up the alien tech left behind in the clash between the fledgling Avengers and Thor's nefarious brother Loki. This climactic fight is otherwise known as the Battle of New York from The Avengers.
This scene canonically takes place in 2012 and yet, the timecard that is subsequently displayed on screen clearly and boldly reads "8 Years Later" as the action then jumps to the present day. But this would be impossible as only 4 years had passed since Homecoming was set in the Fall of 2016.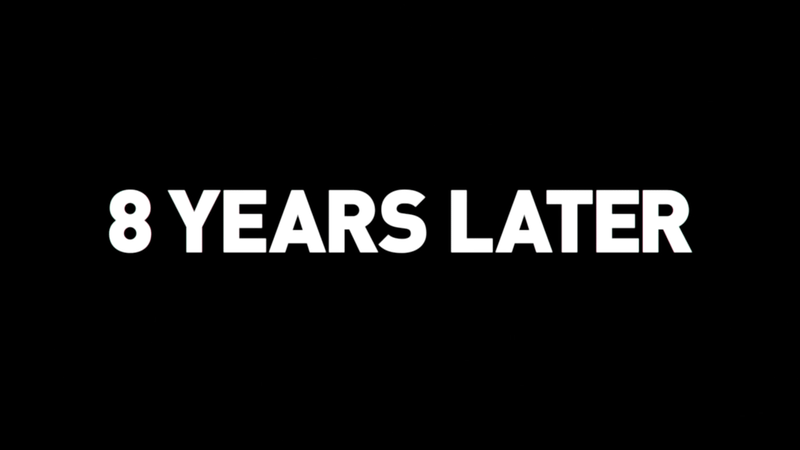 And that's how things are indeed portrayed in the book. The events of Toomes' flashback and the rest of the film are respectively placed in "Spring 2012" and "Fall 2016."
Previously, in 2017, Marvel Studios president Kevin Feige made reference to the timecard (via CinemaBlend), noting that it "wasn't meant to flummox anyone:"
"All of that debate has made us go, 'Okay, at some point, I'm not sure exactly when, we're going to publish a timeline and see what it all is.' It wasn't meant to flummox anybody exactly, and I'm not sure I'd do it again the same way, but it does all connect to where we placed it."
Joe Russo, one half of Avengers: Infinity War's  directing team, also touched on the oversight during that film's press junket, calling it "very incorrect," (via MCUExchange)
Homecoming's sense of time only got dicier from there though. The Vulture specifically states, in the movie's dialogue that it's been "Eight years, not a word from the Feds," meaning his criminal endeavors have flown under the radar since the Battle of New York.
The timeline book takes a stab at explaining this. In a small text box on page 173, the TVA's own Miss Minutes shows up to call out the discrepancy, blaming it on a misplaced case file:
"Redline alert! Hi again! Adrien Toomes says the Battle of New York was eight years ago, but that event was only four years prior. This one's a real head scratcher for us—I reckon an analyst misplaced the case file."
And if Miss Minutes can't figure it out, nobody can.
The Spider-Man Plot Error Thickens
As many viewers were also quick to point out, Toomes is holding a child's crayon drawing of the Avengers fighting the Chitauri in that intro sequence, the implication being that it was created by his daughter Liz.
Liz is 17 in Spider-Man: Homecoming, and yet the quality of the artwork is meant to suggest that it was drawn by a young kid. And this would make sense if there truly was an eight-year gap between The Avengers and Homecoming. But there isn't.
A couple possibilities here: Toomes has another, younger child who would've been little enough to make a drawing like that four years prior, or Liz Allen can't draw to save her life. It's anyone's guess.
Marvel Studios' Spider-Man: Homecoming is available to stream on Disney+ and can be bought wherever movies are sold.