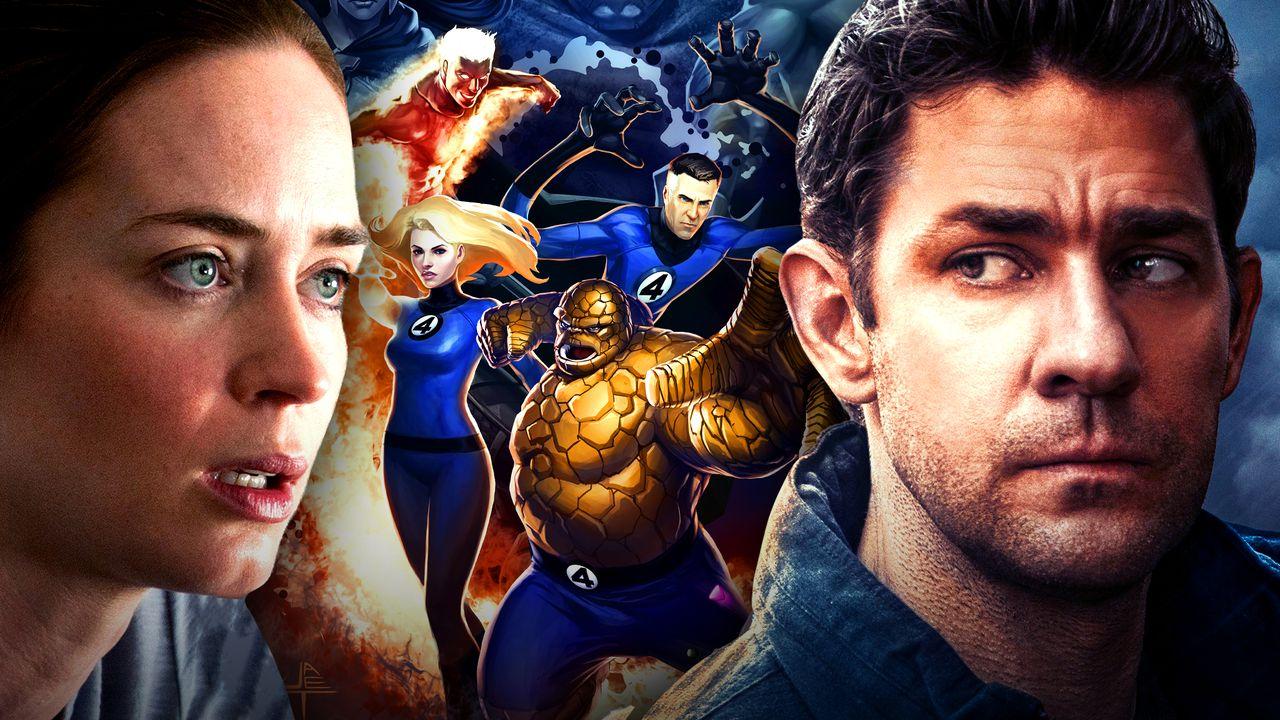 As artists have gotten more adept with using digital software for their projects, realistic-looking fan art has become a commonality. One of the upcoming projects that has fans and graphic designers fan-casting the most are the members of The Fantastic Four. Back in 2018, well-known artist, Boss Logic made fan-art of whom he thought would be fitting as Marvel's First Family: John Krasinki as Mr. Fantastic, Emily Blunt as Invisible Woman, Zac Efron as Human Torch, and John Cena as The Thing.
Now after the official announcement from Marvel President Kevin Feige that a Fantastic Four film is being directed by Jon Watts, people are even more curious to know who will be playing these iconic characters. There is no official announcement, but we may now have a better idea of who fans want to be in the running for the cast. 
NEWS
Bovada has listed gambling odds for who fans want to play the five main characters in the upcoming Fantastic Four film.
Giancarlo Esposito is the favorite to play Doctor Doom (+350), Anthony Ramos and Zac Efron are tied as the favorite to play Human Torch (+400), Emily Blunt is favored to play Invisible Woman (+350), John Krasinski is favored to play Mr. Fantastic (+250), and Stephen Graham is favored to play The Thing (+400).
According to Vegas oddsmaker @BovadaOfficial, the leading candidates for Marvel's Fantastic 4 recast are:

Mr. Fantastic: John Krasinski
Invisible Woman: Emily Blunt
Human Torch: Anthony Ramos
The Thing: Stephen Graham
Dr. Doom: Giancarlo Esposito

— Brandon Katz (@Great_Katzby) December 16, 2020
Here are all the candidate odds Bovada has listed:
Doctor Doom: Giancarlo Esposito (+350), Cillian Murphy (+500), Michael Fassbender (+500), Viggo Mortensen (+500), Oscar Isaac (+600), Christopher Waltz (+700), Nikolaj Coster-Waldau (+700), Wes Bentley (+900)
Human Torch: Anthony Ramos (+400), Zac Efron (+400), Riz Ahmed (+500), Taron Egerton (+600), Dacre Montgomery (+700), Ansel Elgort (+800), KJ Apa (+800), Liam Hemswoth (+1000), Andrew Garfield (+1500)
Invisible Woman: Emily Blunt (+350), Lily James (+500), Samara Weaving (+500), Jessica Chastain (+600), Alice Eve (+700), Anna Torv (+800), Dianna Argon (+900), Rose McIver (+900), Mackenzie Davis (+1200)
Mr. Fantastic: John Krasinski (+250), Dan Stevens (+450), John David Washington (+400), Dev Patel (+700), Ewan McGregor (+800), Glenn Howerton (+900), Rahul Kohli (+900), William Jackson Harper (+1000)
The Thing: Stephen Graham (+400), Dean Norris (+500), Laz Alonso (+550), Ricky Whittle (+650), John Cena (+700), Dominic Purcell (+800), Jared Keeso (+1200), Nathan Fillion (+1400), Terry Crews (+1400), Philip Brooks (+1500), Dwayne Johnson (+1800)
WHAT THIS MEANS
Married couple John Krasinksi and Emily Blunt should come as no surprise to be the favorite to take on these lead roles, as they have been fan-casted as the super-couple for years. Krasinski having the best odds of the bunch should be even less surprising, as he confirmed in an interview with Cinema Blend that "if they are considering me for Mr. Fantastic, continue to consider me because I would love it." 
Zac Efron as Johnny Storm, aka Human Torch, has also been fan-cast for a long time, but there has been no inclination that Efron would even be open to playing the part. Anthony Ramos, best known for his work on Hamilton, is seemingly coming out of nowhere, compared to other names on the listing.  Dacre Montgomery at +700 may be the most interesting pick, as it has recently been reported by Small Screen that he is in talks to play the role. Andrew Garfield at +1500 would be a fascinating casting, because that would mean his return to Marvel, and the potential for even more multiverse fun with the rumors of him returning as Peter Parker in Spider-Man 3.
Doctor Doom having casting odds at all is interesting, as it is unclear if this character would even appear in the film. Giancarlo Esposito is seemingly being cast as every antagonistic role nowadays, already playing Moff Gideon and Stan Edgar in The Mandalorian and The Boys, respectively. It is interesting to see Oscar Isaac with fifth best odds to play Doom, after the absence of him being cast as Moon Knight at the Disney Investor Day left a lot of fans scratching their heads.
The Thing has had the least fan-casting, which seemingly makes it the most unknown who will play the role of Ben Grimm. It is unclear why Vegas has Stephen Graham as the top-listed candidate, but this may be something to watch out for as more casting rumors continue to trickle out. Dwayne "The Rock" Johnson as The Thing would be both hilarious and awe-inspiring. Would they even use CGI, or just tell Johnson to take his shirt off?