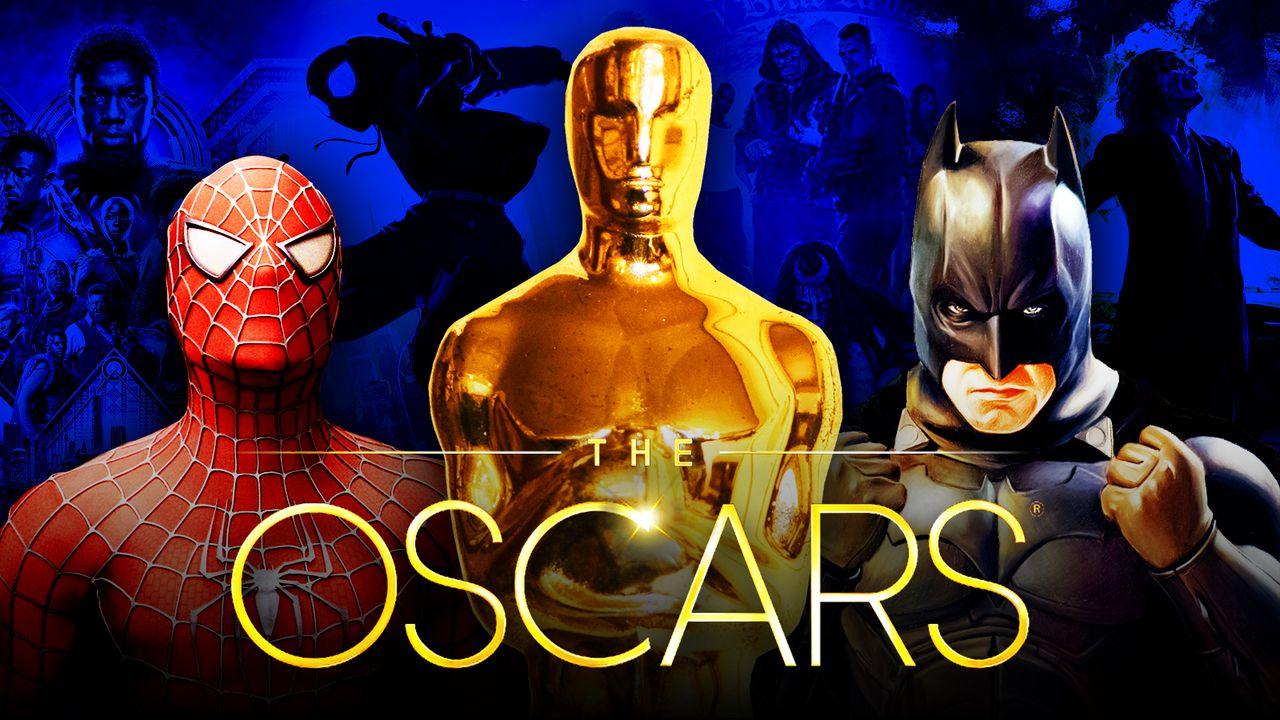 Only nine Marvel and DC movies have ever won an Oscar.
Comic book movies have always struggled to find much success when it comes to Hollywood's most prestigious awards, particularly the Oscars.
But every so often a blockbuster comes along that resonates with the Academy and ultimately finds success in a number of categories.
1.) Superman (1978)
As arguably the first-ever superhero blockbuster, Christopher Reeve's Superman was also the first to win an Oscar, taking home a "Special Achievement Award" for its revolutionary visual effects. Upon release, the 1978 flick sported the tagline "You'll Believe a Man Can Fly," and clearly, its now-dated visual effects were successful in delivering on that promise.
Superman also received nominations for Stuart Baird's film editing and John Williams' iconic score, although it was unfortunately beaten out in both categories.
2.) Batman (1989)
1989's Batman was recognized at the Oscars for "Best Art Direction" by Anton Furst and set decoration by Peter Young. The Tim Burton flick boasted an incredible gothic recreation of Gotham City and the Batcave that naturally earned Batman a prize in this category. 
3.) Spider-Man 2 (2004)
Spider-Man 2 lost out on several awards at the Oscars including "Best Sound Editing" and "Best Sound Mixing." However, it did win the "Best Visual Effects" prize that year after Spider-Man and Doc-Ock went toe-to-toe in epic fashion with plenty of web-swinging along the way. 
This came after 2002's original Spider-Man failed to win in the same category, with Lord of the Rings: The Two Towers instead coming out victorious.
4.) The Dark Knight (2008)
Heath Ledger tragically passed away seven months before the release of The Dark Knight introduced his Joker to the world. But the actor's groundbreaking performance led him to posthumously receive the "Best Supporting Actor" award, with the prize being accepted by his mother, father, and sister on stage.
But that wasn't The Dark Knight's only Oscar, as Christopher Nolan's sophomore Batman outing also won for "Best Sound Editing." The award was given to Nolan's long-time sound editing collaborator Richard King, who has also won this category for Inception, Dunkirk, and Master and Commander: The Far Side of the World.
On top of its two Oscar wins The Dark Knight was nominated in an astounding six more categories - "Best Art Direction," "Best Cinematography," "Best Filming Editing," "Best Makeup," "Best Sound Mixing," and "Best Visual Effects."
5.) Suicide Squad (2016)
Suicide Squad may be one of the worst-received movies to come out of Marvel and DC, but it still marks the only DCEU movie to win an Oscar. The "Best Makeup and Hairstyling" prize was awarded to Alessandro Bertolazzi, Giorgio Gregorini, and Christopher Nelson for their impressive work creating the squad.
6.) Black Panther (2018)
Black Panther still holds the record for the most Oscars given to a superhero movie with three awards out of seven nominations. Among the acknowledgments was for "Best Picture" - the first superhero movie to be nominated in the category - which it, unfortunately, lost out to against director Peter Farrelly's Green Book.
Its other nominations were for "Best Original Song" - for Kendrick Lamar and SZA's "All the Stars" - "Best Sound Editing," and "Best Sound Mixing."
Still, it did manage to take home three Academy Awards for "Best Original Score," "Best Production Design," and "Best Costume Design." This largely demonstrated praise toward Marvel Studios' creation and world-building of Wakanda along with Ludwig Göransson's wonderful score that accompanied it.
7.) Spider-Man: Into the Spider-Verse (2018)
Into the Spider-Verse is regarded by many as the greatest adaptation of Spider-Man ever made, and beyond that, the Academy concluded it was 2018's "Best Animated Feature Film." Sony's animated blockbuster was praised upon release for its unique animation, deep characters, and impressive superhero story.
The award was given to directors Bob Persichetti, Peter Ramsey, and Rodney Rothman, writer Phil Lord, and producer Christopher Miller.
8.) Joker (2019)
The Elseworlds tale of Joker was certainly a different type of movie for DC, and one that saw the second-ever acting Oscar win for a comic book movie. Lead actor Joaquin Phoenix was able to beat out some intense competition to take home his first Oscar, winning "Best Actor," for his portrayal of Arthur Fleck.
Joker was also recognized by the Academy as having the "Best Score" - curated by Hildur Guðnadóttir. The score that accompanied Arthur Fleck's descent into madness was often ominous and terrifying, reflecting the tone of the movie.
Joker currently holds the record for the comic book movie with the most nominations with 11, nine of which it lost out on - "Best Cinematography," "Best Costume Design," "Best Directing," "Best Film Editing," "Best Makeup and Hairstyling," "Best Sound Editing," "Best Sound Mixing," "Best Adapted Screenplay," and "Best Picture."
9.) Black Panther: Wakanda Forever (2022)
Black Panther: Wakanda Forever followed in the footsteps of its predecessor in winning "Best Costume Design" for Ruth E. Carter's work in creating the attire of both the African nation and Namor's Talokan. 
Additionally, Queen Ramonda's Angela Bassett was nominated for "Best Supporting Actress" - a historic moment for Marvel - but lost out to Everything Everywhere All at Once's Jamie Lee Curtis.
The other nominations in question were for "Best Makeup and Hairstyling," "Best Visual Effects," and "Best Original Song" - for Rihanna's "Lift Me Up."
BONUS.) Zack Snyder's Justice League (2021)
Zack Snyder's Justice League does not hold an official Oscar, however, the DC re-cut was the recipient of 2021's fan-voted "Oscars Cheer Moment" for The Flash's run through the Speed Force in the flick's climax. Snyder also took home the other fan-voted award for "Oscars Fan Favorite" for his post-apocalyptic Netflix original Army of the Dead. Both wins came as a shock to many after most assumed Spider-Man: No Way Home would take home both fan-appeal prizes with ease.
The current totals leave Marvel with six Oscars and DC just leading ahead of it with seven awards - not including its fan-voted prize as that does not amount to a formal Academy Award. One could argue those from the blue brand to even be slightly more impressive as DC remains the only one to win in the main categories, having received two acting Oscars, both for performances of the Joker.
The next Oscars will be the 96th Academy Awards and take place in early 2024 with an official date yet to be announced.