Star Wars is filled with unresolved mysteries, and one of them is Mace Windu's questionable death during Revenge of the Sith. Samuel L. Jackson portrayed the memorable Jedi master in the prequel trilogy, but the character suffered a gruesome demise at the hands of Emperor Palpatine. Since then, fans have wondered if the character is really dead or a comeback could happen sometime soon. 
Back in 2020, it was previously rumored that a Mace Windu prequel series for Disney+ was being developed by Lucasfilm. However, no new details have emerged ever since that report, but this has led to the belief that there are still plans for the character. 
The Book of Boba Fett lead star Temuera Morrison previously revealed his desire for "revenge" against Windu, potentially hinting that a return for Jackson's Jedi master could be in the cards in a future project. 
Now, the actor himself has expressed interest for a comeback in a new interview. 
Will Mace Windu Return?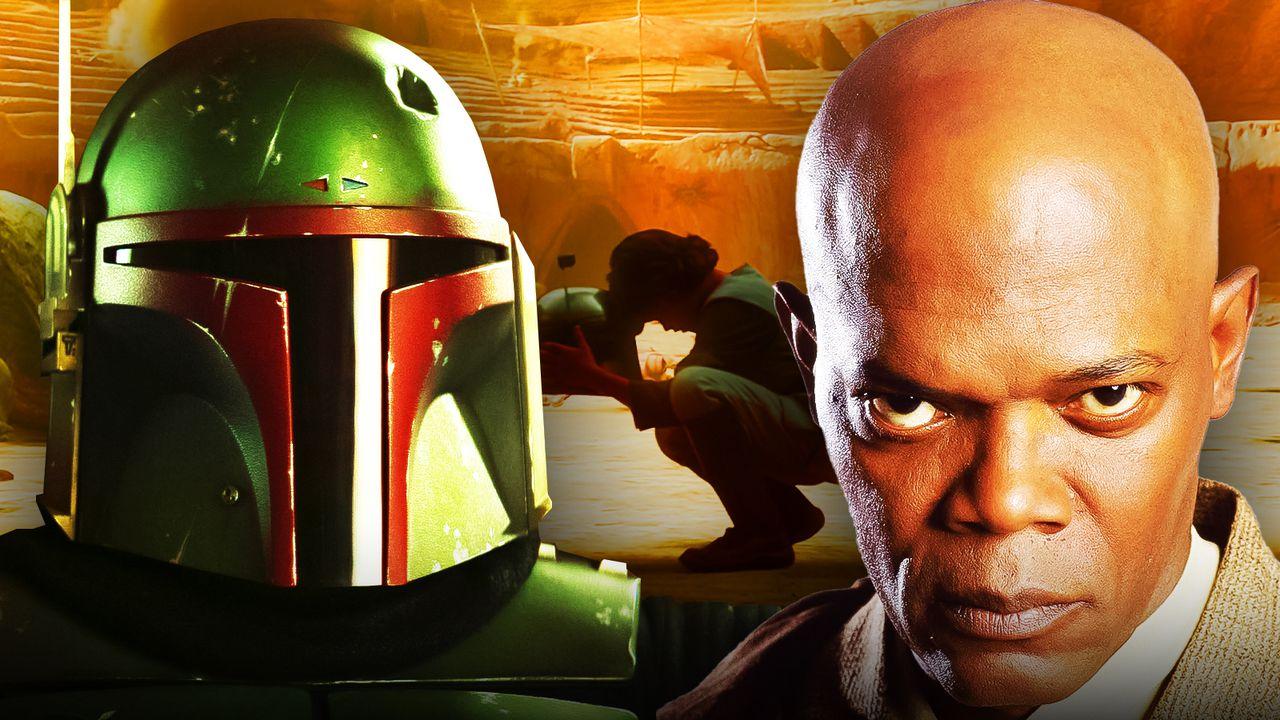 Samuel L. Jackson sat down as a guest on a live sit-down with Happy Sad Confused's Josh Horowitz, during which he talked about a potential Star Wars return as Mace Windu. 
When asked if fans should hold out hope for a Mace Windu comeback, Jackson boldly admitted that he wants to reprise his role as the famous Jedi master. The Marvel and Star Wars veteran revealed that he told The Mandalorian and The Book of Boba Fett director Bryce Dallas Howard about his desire to return: 
Horowitz: "Should I hold out hope at this point for Mace?"

Jackson: "Definitely. There's a huge history of people with one hand returning in Star Wars… The only person I've ever said that to about coming back was Bryce Dallas Howard, 'cause I just did a movie with her. And she directs episodes of The Mandalorian, so, 'You think you might be able to hook a brother up? I mean you like me, right?' She's like, 'I love you, you're amazing!' So, 'Put me back in there… Put me in coach, I'm ready!' You know, I'll learn to lightsaber left-handed. Come on, hook me up."
A 'The Mandalorian' Comeback for Mace Windu?
Many would agree that a Mace Windu return is inevitable at this point, since the character's demise has long been a topic of discussion among fans. Still, a compelling storyline should be showcased in order to make the character's return worth it. In addition, Samuel L. Jackson's willingness to return to the role should be a positive sign for Lucasfilm, mainly because it wouldn't be hard to negotiate on the studio's end. 
While the Skywalker Saga has ended its big-screen run, Star Wars' small-screen branch is just getting started with The Mandalorian. The Pedro Pascal-led series brought back many fan-favorite characters, such as Ahsoka Tano, Boba Fett, and Luke Skywalker. It's possible that Mace Windu could be added to the list, especially after Jackson's comments.
Given that Din Djarin and Grogu are traveling to different locations in The Mandalorian, it's possible that they end up meeting Windu on an unknown planet. While this could simply serve as a random encounter, the show could end up revealing that Windu is the one who saved Grogu from Order 66. 
This potential reveal could change The Mandalorian universe in more ways than one, as it unravels the mystery behind Grogu's past in Coruscant. 
On the other hand, The Book of Boba Fett is also a viable option for Mace Windu's comeback, considering the storied history between the titular bounty hunter and the Jedi master.
Whatever the case, many would agree that all signs indicate that a Mace Windu return is plausible at this point. 
---
Aeron is a news/features writer and Content Lead for The Direct who has been working for the site since March 2020. From writing about the inter-connectivity of the Marvel Cinematic Universe to having an extended knowledge about DC TV's Arrowverse, Aeron's expertise has since expanded into the realm of reality TV, K-drama, animated, and live-action shows from Netflix,  Disney+, Prime Video, MGM+, Peacock, Paramount+, and Max. When he isn't writing and watching all things MCU, Aeron is heavily invested with the NBA (go Celtics!) and occasionally watches thrilling matches in the WWE.