The new trailer for Doctor Strange in the Multiverse of Madness has the entire internet aflutter. While the first teaser was great, the new footage recently unveiled is something entirely different. Fans were able to see Defender Strange, Zombie Strange, Patrick Stewart's return as Professor X, a new Captain Marvel, Elizabeth Olsen's Scarlet Witch unleashed, and so much more.
If this is what Marvel Studios is comfortable showing, imagine the surprises that await.
It would seem the sorcerer's exploits in Spider-Man: No Way Home are going to have quite the consequences. Though that much is clear, it's hard to imagine that all of the Madness in this upcoming sequel will stem solely from those events.
In fact, in a different timeline, Multiverse of Madness was actually supposed to arrive before Tom Holland's next outing as the famous wall-crawler. There's even concept art of America Chavez playing a part in Peter's identity crisis, a character who has yet to be introduced to audiences.
Keeping that in mind, when looking at a particular scene shown in the new trailer, some outside context may bring an interesting twist to what fans are seeing.
A Twist Hiding In Plain Sight?
The new trailer for Doctor Strange in the Multiverse of Madness was just released and it has given fans a lot to think about. There is something, however, that fans might have missed.
At the beginning of the teaser, Benedict Cumberbatch's titular hero can be seen waking up from a terrifying nightmare.
 The massive ornate bed in which he lies is similar to that of recently revealed concept art from Spider-Man: No Way Home.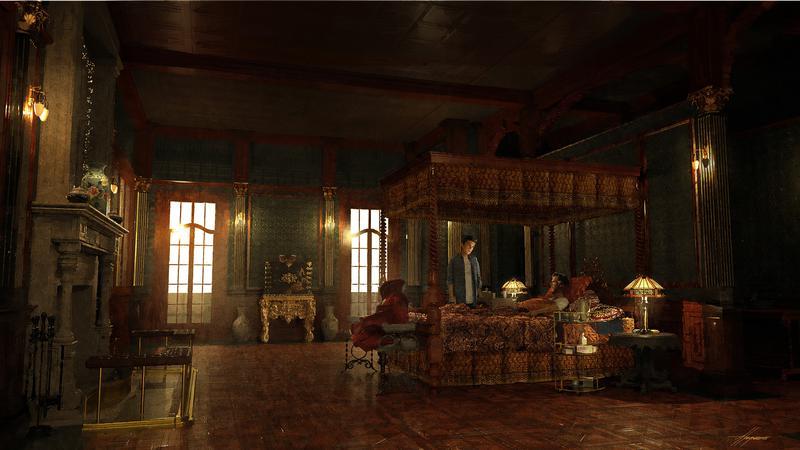 The scene seems to depict Tom Holland's Peter Parker over what could be a bedridden Stephen Strange.
Originally, Doctor Strange in the Multiverse of Madness was intended to release prior to Spider-Man: No Way Home, with the film's screenwriters even stating that they previously wrote the film to precede Spidey's threequel. It's unknown why exactly Strange is bedridden in the concept art, but it's possible that he was exhausted following the events of his solo film before Peter Parker arrives to pester him for some help.
Now that Multiverse of Madness follows on from No Way Home's events, perhaps this concept art has been repurposed to position Strange as being exhausted from Spidey's Multiversal antics instead — even if he doesn't directly remember everything. Haunted by memories that he doesn't recall, the former Sorcerer Supreme may have been put out of action by tampering with the Multiverse.
Alternatively, the concept art may be a sign of events to come. If Strange was originally set to be taken out after the events of Multiverse of Madness pre-slate shuffle, this may suggest that the sorcerer sitting up in bed may take place towards the end of the film instead, leaving Doctor Strange bedridden after the chaos of his second solo film.
The Strange Things That Could Have Been
It's always interesting to ponder what may have been if schedule shuffles never occurred, especially regarding the significant changes that came with these pandemic-riddled days. It's been a turbulent time, from release day shifts to cut character appearances to entire finales being re-worked.
Despite now having two trailers for the upcoming Doctor Strange project, the overall threat of the piece is still in question, which makes it more difficult to surmise what might occur to cause Stephen Strange to be bedridden. Maybe the good Doctor gets a sickness he can't treat after beating the titular madness, a curse he can't walk away from.
At the very least, fans can be fairly confident in the former Sorcerer Supreme making it out of his next film alive. Seeing as he was originally set to be in a version of No Way Home that was post-Multiverse of Madness, it's hard to see the entire fate of his character being changed. 
Fans will just have to wait until Doctor Strange in the Multiverse of Madness hits theaters on May 6 later this year to find out what direction Marvel Studios and director Sam Raimi have taken.