Warner Bros. Discovery continues to bring disappointing news for fans with the announcement that two of the next four movies in the greater DC Universe have been delayed. This includes Jason Momoa's Aquaman and the Lost Kingdom, which had its date pushed back a full nine months and is now being held back until Christmas 2023.
Aquaman 2 director James Wan spoke about how he would use the time given with the original push to March 2023 to make sure the movie's VFX work was up to par. Now, the crew has well over a year to complete the movie's required special effects and editing, all while WBD tries to figure out their plans for the overarching DC franchise.
Regardless of what decisions are made, Warner Bros. now has fans waiting even longer for the return to Atlantis, which will also expand the horizons to new areas of the seven seas within the DCEU. Following the announcement that his film was delayed, director James Wan also took to social media to share some of the work he and his team are putting in to give DC fans a special experience in the theater.
Aquaman 2 Director Shares New Concept Art
Aquaman and the Lost Kingdom director James Wan took to Instagram to share multiple images of concept art from the new movie, which just had its release delayed to December 25, 2023.
Jason Momoa's titular hero swims up to the middle of what appears to be some kind of underwater vessel, which features a group of shark hybrid creatures ready to fight the King of Atlantis. In the middle is a seemingly female figure with the bottom half of an octopus as Arthur Curry extends his fists toward the group.
This group could be a subspecies of Atlanteans called the "Sea Changed," who have various mutations that make them look like human/shark hybrids.
While it's unclear who's involved, a giant underwater fight takes place between armies of soldiers and a number of battleships shooting lasers at one another. This appears to be on a giant underwater wall that some of the participants are climbing to the top of. 
Two undisclosed characters walk through icy terrain in the middle of a giant trench with a red flare shining ahead of them. A busted-up armored vehicle sits behind them, with the red light shining on a creature with a giant tentacle waving through the air.
Momoa's Aquaman engages in another fight with Yahya Abdul-Mateen II's Black Manta, one of the key antagonists from 2018's Aquaman. After losing his first matchup against the Atlantean King, Abdul-Mateen is back for round two in this expansive sequel as they have their first underwater quarrel. 
A small Atlantean ship blasts through the water towards a couple of sunken ships from the surface wedged in the middle of a giant trench. There are also some intriguing light patterns on the deck of the one in front, although it's unclear where exactly this takes place.
A lush oasis shines under the sun with flowers that boast a bright blue and purple color scheme. This landscape could end up being the titular Lost Kingdom, filled with waterfalls as a couple of onlookers take in the gorgeous sights in front of them.
More underwater life will be featured in Aquaman 2, with colorful jellyfish and sea urchins making their presence felt on an underwater reef. Another Atlantean ship can also be seen rippling along the coral reef.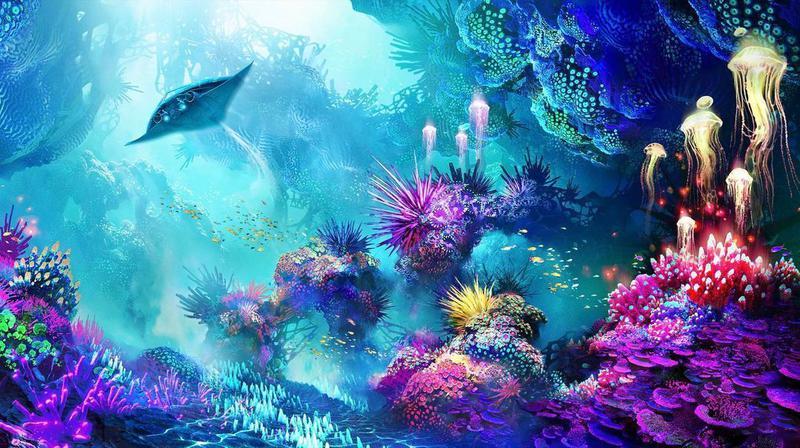 Arthur Curry finds himself tangled up with some kind of giant plant, which most resembles a Venus flytrap, wrapping its appendages around Momoa's arms and torso. This might be one of the dangers of visiting the Lost Kingdom, as Aquaman learns more about the undiscovered living organisms above the ocean surface.
More of the previously shown lush landscape is revealed, filled with blooming flowers and trees amidst a group of flowing waterfalls. A rainbow can be seen going through some of the trees as a pair of people walk across a plant-filled bridge.
A bigger submarine makes its way through an underwater cave, which is filled with a large number of sea anemones all across the walls. There are also some underwater venus flytraps lurking at the bottom of the frame, making this area particularly dangerous for those unaware of what they get themselves into.
Along with the images, Wan shared the following caption, expressing his excitement for fans to see the fully finished movie next year:
"AQUAMAN & The Lost Kingdom moving to Christmas Day 2023. I'm a bit superstitious and I love that it's a December release like the first one! 
Here is a small glimpse of some artwork into the big, epic world-building we're creating, and I need the time to do it right. These images barely scratch the surface of this movie (haven't even shown the weird and wonderful characters and creatures of this world yet). I can't wait to show, but you have to wait just a little bit longer ;)"
Aquaman 2 Expanding Underwater Horizons
While most of these scenes are difficult to place in terms of plot details and locations, it's clear that director James Wan is holding nothing back for his second solo Aquaman movie. With some of the plot focusing on the effects of natural disasters and environmental problems, these images will give fans a look at some of the most beautiful sights the DCEU has to offer as the story moves well past Atlantis alone.
Fans also get a glimpse at the return of Black Manta, who should be out for revenge against Arthur Curry after the post-credits scene from the first movie. It's unclear if Randall Park's Dr. Stephen Shin will be back to help the villain upgrade his tech or anything along those lines, or how big of a role he'll actually play alongside Patrick Wilson's Oceanmaster, but that battle should show how powerful Aquaman has become since taking over the Atlantean throne.
With such a long time until Aquaman 2 actually debuts, fans will be analyzing this concept art for the foreseeable future while Warner Bros. does its best to bring the best visual effects and story that it possibly can.
Aquaman and the Lost Kingdom will now release in theaters on December 25, 2023.