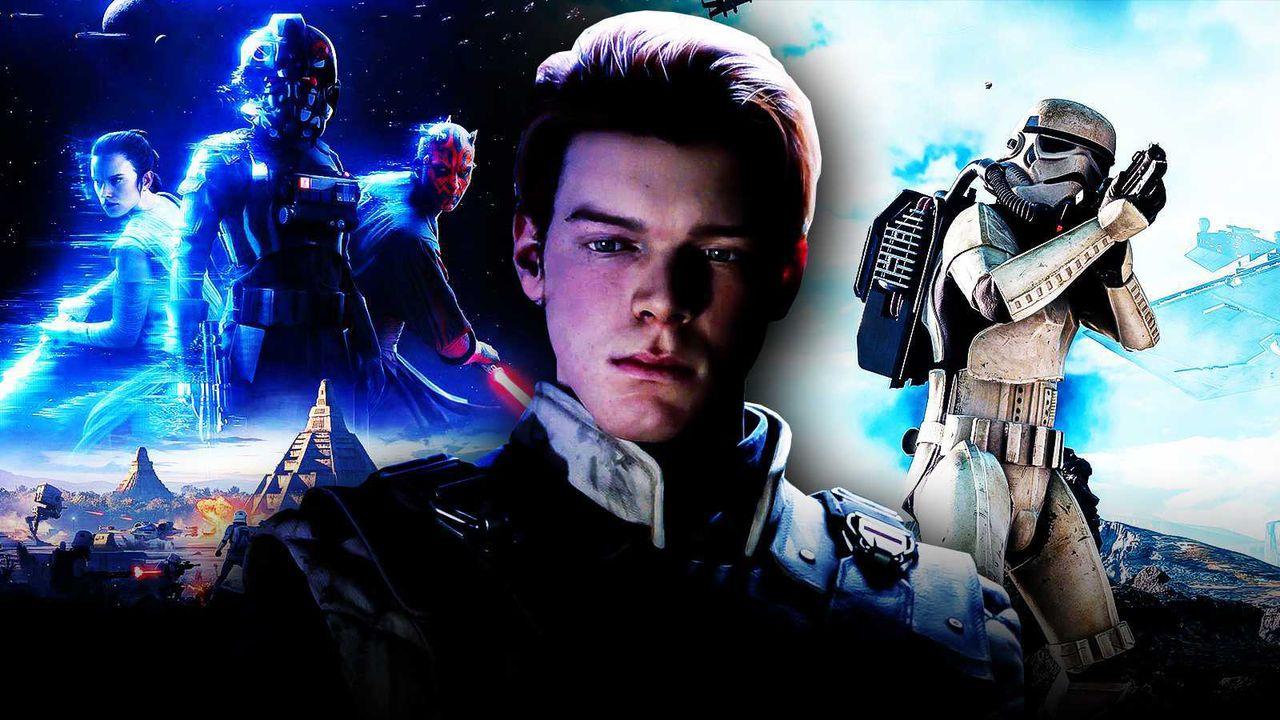 Electronic Arts signed a deal with Lucasfilm in 2013 that gave the Battlefield publisher exclusive access to the Star Wars license, although this partnership is set to lapse in 2023. Since the agreement began, EA has created numerous games set in the galaxy, far, far away including Battlefront, Squadrons, Jedi: Fallen Order, and more. 
Moving forward, EA will continue to produce Star Wars games but with the exclusivity deal at an end, they won't be the only one. Quantic Dream has already revealed its High Republic Eclipse title and Ubisoft has its own top-secret open-world game in the works.
The future of Star Wars in gaming is already looking brighter than ever and three more titles have just been announced to be in production from EA and Respawn Entertainment.
EA Announces 3 Star Wars Games
In a recent blog post from Electronic Arts, the publisher announced that three Star Wars games are in development at Respawn Entertainment, including a Jedi: Fallen Order sequel, a new first-person shooter, and a strategy game. 
Jedi: Fallen Order game director Stig Asmussen leads production on the highly-anticipated sequel, while Star Wars gaming veteran Peter Hirschmann directs an all-new first-person shooter title.
The Respawn-produced Star Wars strategy game will be developed in partnership with Bit Reactor and led by Greg Foerstch, a former Firaxis Games developer.
Lucasfilm Games Vice President Douglas Reilly shared the excitement to continue to work with the "superbly talented developers" to "[bring] more amazing experiences to the galaxy far, far away:"
"We are excited to continue working with the superbly talented developers at Respawn. They have demonstrated excellence in telling epic Star Wars stories along with best-in-class gameplay across different genres, and we are looking forward to bringing more amazing experiences to the galaxy far, far away." 
Walt Disney Games Senior Vice President Sean Shoptaw said the new collaboration "highlights the trust and mutual respect" between EA, Respawn, and Lucasfilm Games as they create "thrilling original games for diverse audiences" in the Star Wars world:
"Building on the previous successes of our EA relationship, this new collaboration highlights the trust and mutual respect shared between the world-class teams at EA, Respawn, and Lucasfilm Games. Fostered by the expertise and passion within each team, we will create thrilling original games for diverse audiences across the Star Wars galaxy." 
The untitled Star Wars FPS game director Peter Hirschmann called the project a "dream come true" and "a story [he has] always wanted to tell:"
"Working with Lucasfilm Games on a new FPS in the Star Wars galaxy is a dream come true for me, as this is a story I have always wanted to tell."
Respawn CEO Vince Zampella echoed a similar message as he shared the studio's delight to work on "new titles that we have wanted to make for years" followed by a recruitment plea for new developers to join the team:
"We are huge fans of Star Wars here at Respawn, and we're thrilled to work with Lucasfilm Games on new titles that we have wanted to make for years. If you want to make great Star Wars games, you should come to join us on our journey." 
Respawn previously developed Titanfall, Apex Legends, and Star Wars: Jedi: Fallen Order. 
Star Wars' Promising Gaming Future
Between LEGO Star Wars: The Skywalker Saga, Quantic Dream's Eclipse, Ubisoft's open-world game, and the Jedi: Fallen Order sequel, the future of Star Wars in gaming was already packed. With an all-new first-person shooter and a strategy game now having been thrown into the mix, gamers will be feasting for years to come.
Jedi: Fallen Order introduced Cameron Monaghan's Cal Kestis to the Star Wars galaxy, a Jedi Padawan who survived Order 66 as a child and grew up to take on the Empire and the Inquisitors during Imperial reign. The Respawn action-adventure game won critical and fan praise upon its 2019 release and anticipation for the sequel has been high since.
EA initially led its Star Wars charge with a reboot of the legendary Battlefront shooter franchise and subsequently released a sequel to great controversy due to its corrupt monetary systems. After establishing a bad name for the franchise, a third installment in the trilogy was never produced; perhaps Respawn's latest Star Wars venture will be something of a spiritual successor to the Battlefront games.
Respawn has already demonstrated its ability to produce excellent FPS games with the popular Titanfall franchise and Jedi: Fallen Order demonstrates its solid understanding of the Star Wars world. Peter Hirschmann's involvement as the game director is particularly exciting due to his senior role in several classic Star Wars games including The Force Unleashed, Battlefront (2004), and even LEGO Star Wars: The Complete Saga. 
Bit Reactor was only revealed to the world a matter of days ago as a new studio from veterans of Firaxis Games, who will produce turn-based strategy games with a focus on storytelling. Firaxis Games previously produced the legendary strategy titles XCOM and Civilization, making its veteran developers the perfect candidates to take on a Star Wars title in the genre.
The news of Respawn's involvement in three Star Wars games spells trouble for the future of its popular Titanfall franchise, as it almost certainly kills hopes of a third installment being in the pipeline. Although, Respawn is expected to continue to release new content for its free-to-play battle royale game Apex Legends which will enter its 12th season next month.
Fans should prepare for a long wait before hearing any definitive details on either Respawn's FPS game or Bit Reactor's strategy title, but Jedi: Fallen Order will reportedly be revealed in the near future as rumors point to a late 2022 release.