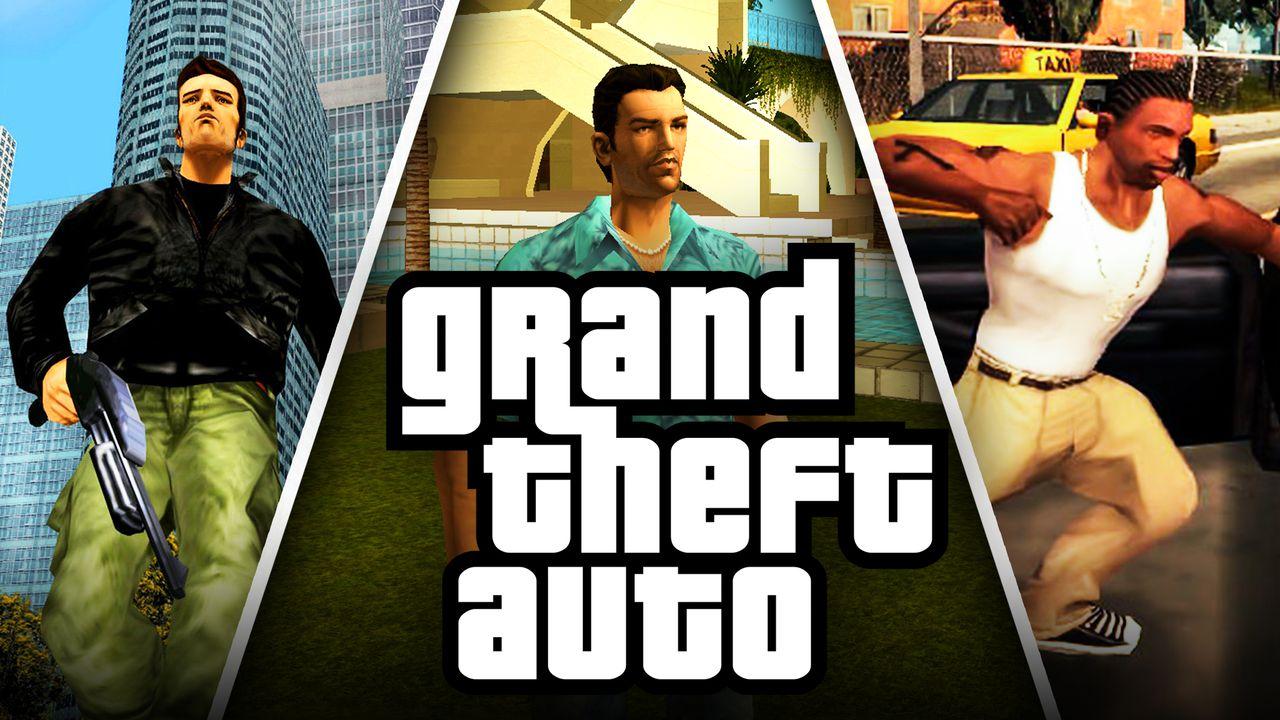 The Grand Theft Auto series is a landmark in gaming, with the third entry in particular propelling Rockstar Games into superstar status.
A leak suggested that the studio was set to celebrate Grand Theft Auto III and its two subsequent entries with a collection, tiding fans over while they wait for the inevitable Grand Theft Auto 6. 
The much awaited sixth installment has been heavily rumored for quite some time, with rumblings suggesting that the game will have an ever-changing map and an expected release in 2025. The title may also incorporate cryptocurrency into its gameplay systems, as some rumors suggest.
Now, while players wait for the next entry in the series, Rockstar Games has given fans the opportunity to revisit previous GTA entries in the meantime.
Rockstar Announces GTA Definitive Collection
Rockstar Games announced Grand Theft Auto: The Trilogy – The Definitive Edition through a new teaser trailer, which will be a collection of Grand Theft Auto III, Grand Theft Auto: San Andreas, and Grand Theft Auto: Vice City.
pic.twitter.com/AMKIJGLjrF
Via Game Informer, the collection will be available for PlayStation 5, Xbox Series X/S, PlayStation 4, Xbox One, Switch, and PC later in 2021, and will also hit iOS and Android platforms in 2022.
Rockstar Games confirmed that all three games would receive improvements for both graphics and gameplay, while ensuring that they stay true to their original incarnations.
The studio followed up the announcement with a series of tweets, affirming the legacy of Grand Theft Auto III and its other two entries while thanking fans for their support ahead of the game's 20 year anniversary:
"Later this month marks a very special anniversary for Rockstar Games: 20 years since the original release of Grand Theft Auto III. In addition to carving a new path for the open world genre, Grand Theft Auto III established Grand Theft Auto as a cultural phenomenon, alongside its two subsequent — and equally legendary — entries in the series, Grand Theft Auto: Vice City, and Grand Theft Auto: San Andreas. 

We'd like to extend a heartfelt thank you to all the Grand Theft Auto fans who have supported the games over the past two decades. In honor of the upcoming anniversary, today we are excited to announce that all three games will be coming to current generation platforms later this year in Grand Theft Auto: The Trilogy – The Definitive Edition."
Rockstar echoed these sentiments on a recent blog post, in addition to teasing new events and updated for GTA Online. In keeping with the theme of the recently-announced trilogy, Rockstar teased some upcoming events and "unusual activity occurring in and around Southern San Andreas."
The studio also acknowledged new tweaks to the Jobs system to optimize player experience, such as "cycling select Adversary Modes and Player Jobs in and out of the game" to allow space for new modes and jobs in the future, improve matchmaking, and highlight "slept-on classics or the community's quirkier favorites alongside special bonuses."
Rockstar closed by teasing an "exciting new adventure" to come to GTA Online down the road:
"And later this year, get ready to go on an exciting new adventure in GTA Online as some well-known contacts and familiar friends need your help in expanding their 'legit business' — with many more surprises soon to be revealed!"
The Legacy of Grand Theft Auto
A revolutionary and controversial game at the time of its release, Grand Theft Auto III brought the series into 3D for the first time and thus paved the way for GTA to become what it is today. 
Grand Theft Auto V would not be the most financially successfully entertainment product of all time without the third entry establishing series staples like an open-world, and now players will get to experience where the franchise really found its footing.
It will be interesting to see how much Rockstar updates the games to modern platforms, whether the studio will bring it up to the same graphical and gameplay standards as GTA V or find a new direction on revamping the game's systems.
A Nintendo Switch release is also notable, considering the Grand Theft Auto series has typically avoided Nintendo platforms aside from the occasional DS release. It seems that Rockstar hopes to reach as many players as possible, allowing all the chance to experience the pivotal trilogy.
Grand Theft Auto: The Trilogy – The Definitive Edition hits PlayStation 5, Xbox Series X/S, PlayStation 4, Xbox One, Switch, and PC later in 2021.