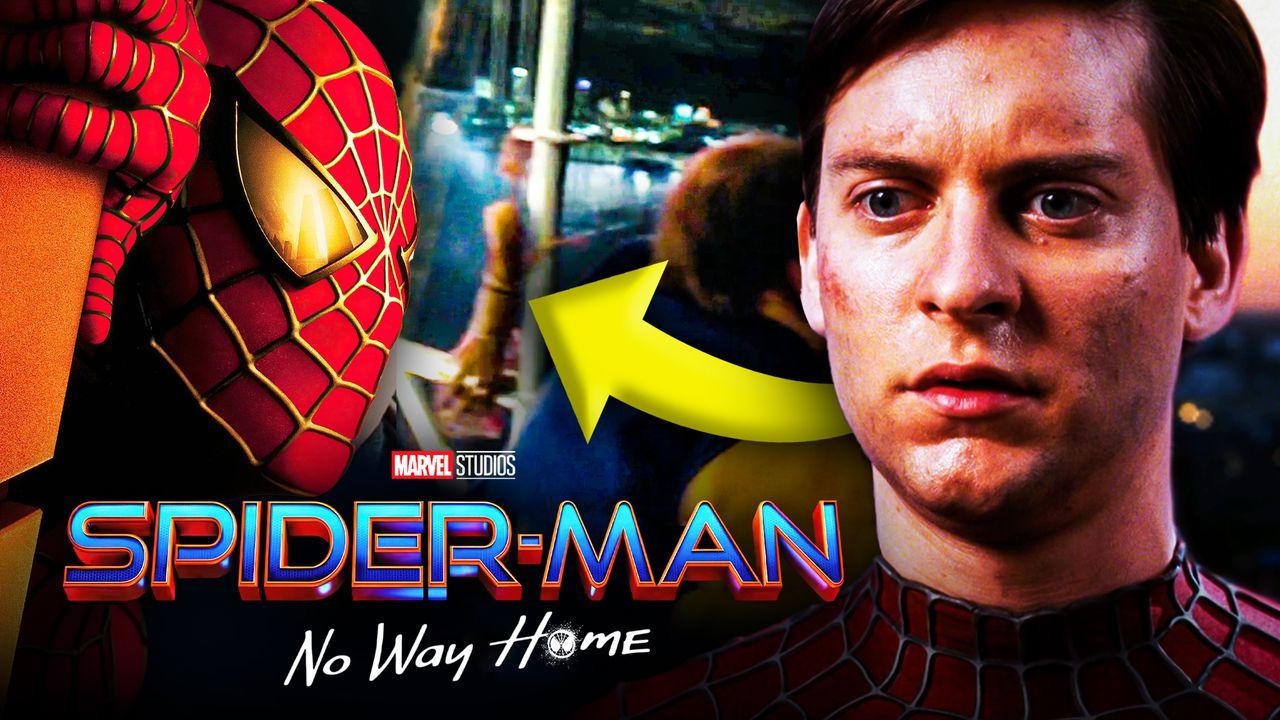 While Spider-Man: No Way Home's first trailer shattered viewing records and gave fans their first look at what to expect from the upcoming threequel, the long-awaited footage did little to stem rumors supporting Tobey Maguire and Andrew Garfield's cameos in the upcoming film. 
If anything, Sony and Marvel's minimal marketing following the trailer only heightened fan curiosity, and a string of convincing leaks elevated that hype to unprecedented levels, despite Tom Holland and Andrew Garfield's best efforts to turn the tide.
While there was speculation that No Way Home's second trailer would include Maguire and Garfield, instead, Sony and Marvel chose to highlight its slate of villains from Spidey franchises past. But even so, eagle-eyed fans discovered that one of the former Spider-Men still found a rather surprising way to cameo.
No Way Home Trailer Includes Mistake Cameo
At the 2:28 mark in the new Spider-Man: No Way Home trailer, there appears to be a disembodied arm and hand holding onto a scaffolding rail just to the left of Peter's best friend Ned.
A better look at this editing mistake can be seen below. 
While it looks like this hand and arm looks like it belongs to a Spidey, the real question is whether it belongs to Tobey Maguire or Andrew Garfield.
Surprisingly, this isn't the first editing mistake Sony made in this trailer. A shot of Tom Holland's Spidey swinging towards the film's villains shows the Lizard quickly turning away as if he's been kicked, even though Holland is nowhere near him.
This has led fans to speculate that Sony and Marvel edited out either Maguire or Garfield for the trailer; but apparently, they forgot to finish editing them out of this particular shot.
Sony Can't Stop Spoiling No Way Home
Removing characters or details from trailers is nothing new for Marvel Studios. In fact, certain scenes that were shown in Avengers: Infinity War and Endgame were never part of the film but only included to keep fans guessing. 
At the same time, mistakes like these are nothing new for Sony. In fact, their responses to leaks have only given them credence, and recently, fans responded poorly to the film's second poster design, which looked quickly constructed and utilized similar imagery from the original. 
While it's true that Maguire and Garfield's involvement might be the worst kept secret in Hollywood, so far, the film's marketing campaign appears determined to keep their cameos a secret and only focus on Holland. However, with every effort Sony makes to avoid spoilers, the studio only seems to confirm them. 
Spider-Man: No Way Home debuts in theaters on December 17, 2021.