Announced last year, Gotham Knights is set to tell the unique tale of Batman's sidekicks taking over after the Caped Crusader's supposed death. The game will follow Robin, Batgirl, Nightwing, and Red Hood as they defend the infamous city.
It will feature optional co-op, allowing players to team up as members of the Batman family and take down criminals together. It will also include RPG elements, letting players level up their characters by gaining XP for perks.
Gotham Knights was originally slated to release this year, but it looks players will get their hands on this game later than expected.
NEXT GAME IN THE BATMAN UNIVERSE DELAYED UNTIL NEXT YEAR
Gotham Knights , the WB Games Montréal game focused on Batman's underlings, has been delayed to 2022. It was originally intended to release sometime this year.
In a Twitter post , the studio confirmed its decision to delay the game "to deliver the best possible experience for players:"
"Gotham Knights will now launch worldwide in 2022.

We are giving the game more time to deliver the best possible experience for players. Thank you to our amazing fans for your tremendous support of Gotham Knights. We look forward to showcasing more of the game in the coming months."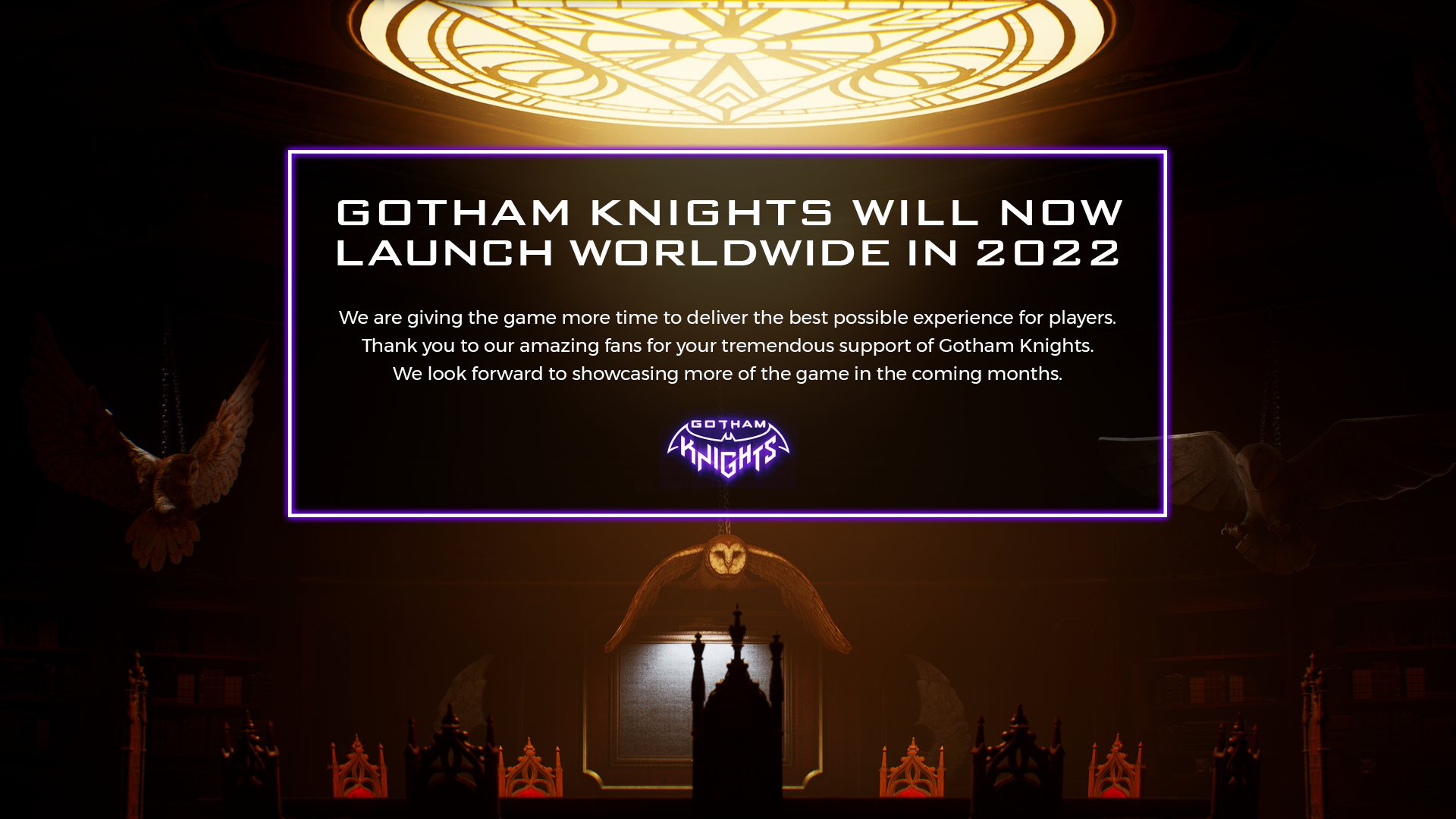 The full tweet can be found below:
pic.twitter.com/O1U4T0gK3u
A LONGER, BUT NECESSARY WAIT FOR THE ANTICIPATED GAME
Gotham Knights was intended for a release sometime this year but is now planning on launching in 2022. An exact release date wasn't given, and WB Games Montréal likely won't narrow that window until its certain of the development's completeness.
Fans can expect to hear more about the game sometime later this year; WB Games Montréal said it would reveal more about the game "in the coming months." The industry will likely follow a similar trend this summer as it did last year, announcing games sporadically throughout the season rather than in a confined week-long event. Therefore, it's likely that more information about Gotham Knights will be discussed this summer.
It's unclear what exactly impacted the development of Gotham Knights, but trying to release a game during a pandemic is a monumental task that likely contributed to the game's delay. The further polish will contribute to a better experience for players, so pushing the game will be best for the finished product.