Neilsen released their data on the most-streamed movies of 2022, with only one MCU film making the top 15, and it's not the film one might think. 
Marvel Studios, while continuing its box office dominance in 2022, also rolled along on its quest for streaming glory. 
While releasing a record number of projects that all eventually came to Disney+ (aside from Black Panther 2 joining the service on February 1), the home of Marvel Studios on streaming saw record growth last year. Its subscriber base reached "a new high of 164.2 million in the fourth quarter" of Disney's 2022 fiscal year. 
But with this streaming push from Marvel Studios, did it actually bear any fruit in the 2022 most-watched numbers? As it turns out, it didn't. 
Eternals: The MCU Streaming King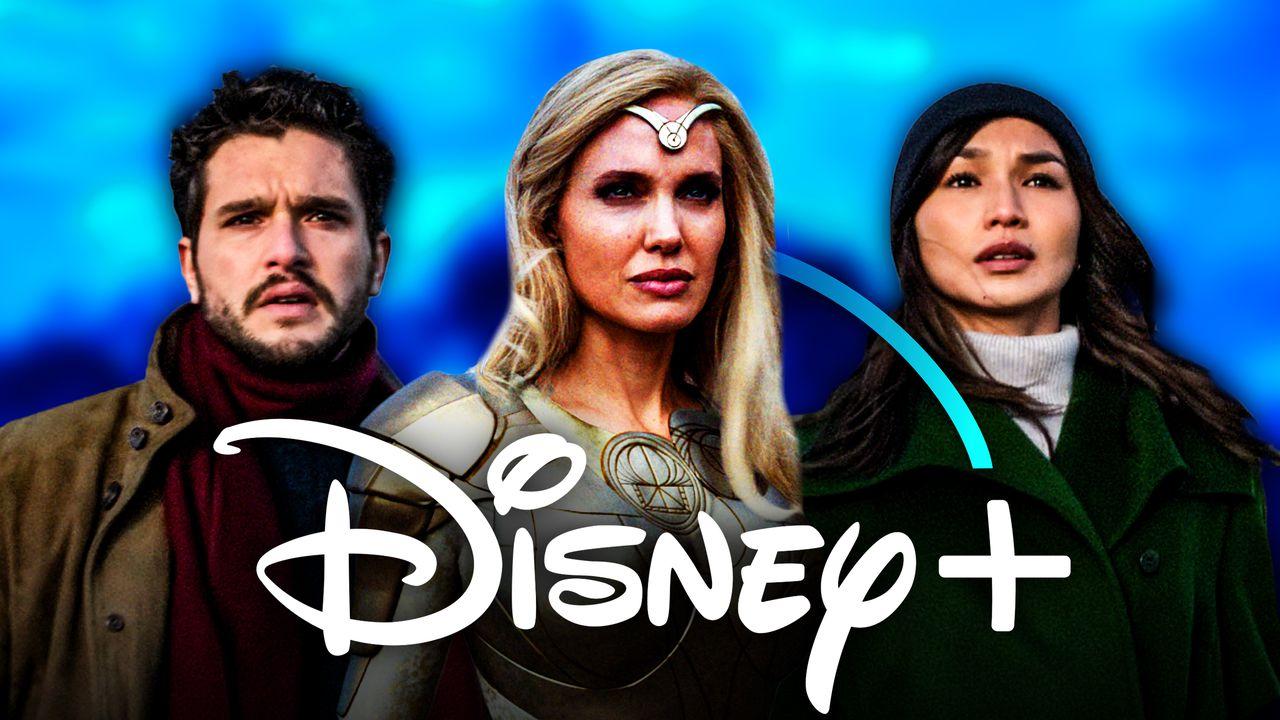 According to new data published by Nielsen, Marvel Studios' Eternals was the only MCU film to make the analytics company's 'Top 15 Streaming Movies of 2022' list. It came in just slightly above Frozen II and slightly below Coco, with Encanto dominating the competition in the top slot.
The Chloé Zhao-directed epic comes in at 13th place, joining nine other Disney+ films on the list:
Encanto (27.416 billion / Disney+)
Turning Red (11.427 billion / Disney+)
Sing 2 (11.347 billion / Netflix)
Moana (8.629 billion / Disney+)
The Adam Project (6.141 billion / Netflix)
Hocus Pocus 2 (5.697 billion / Disney+)
Don't Look Up (5.141 billion / Netflix)
Frozen (5.133 billion /  Disney+)
Luca (4.974 billion / Disney+)
The Gray Man (4.972 billion / Netflix)
Zootopia (4.437 billion / Disney+)
Coco (4.253 billion / Disney+)
Eternals (4.236 billion / Disney+)
Frozen II (4.195 billion / Disney+)
Uncharted (4.179 billion / Netflix)
Now, this data is collected as the most-streamed films of the year in US households, using 'Minutes Viewed (Billions)' as a metric. So that could play into why Eternals made the cut and other MCU films did not. 
Two things to factor into this viewing time total are Eternals' near record-breaking runtime (2 hours 37 minutes), and the fact that the film landed on Disney+ on January 12, meaning it had almost a full year of data to use.
Why Did Eternals Succeed on Disney+?
Seeing this new data from Nielsen is going to shock many casual and die-hard MCU fans. To say Chloé Zhao's introduction of the Eternals did not light the world on fire would be an understatement. 
The film left theaters with the 2nd-worst domestic performance in MCU history (admittedly, some of that due to the pandemic) and has become maligned by a large swath of Marvel Studios fans. 
So, seeing such a black sheep for the MCU popping up on a list such as this is a little surprising, but there may be some method to the madness here. 
As mentioned above, Eternals is one of the longest Marvel films, so that could play into it. Plus, one has to factor in that it had almost the entire year (aside from 12 days) to rack up those numbers. 
But it couldn't have just been those two factors that played into the film's streaming success.  
It was reported back in January 2022 that Eternals broke the MCU's Disney+ viewing record, being streamed by 2 million households in just five days. So perhaps, this movie had become such an object of fascination that those that had already seen it and those who hadn't just had to take it in at home. 
One also has to consider that - at least part of - Eternals' dismal box office performance and ensuing streaming success was the fact that the movie came out at a time when some were still hesitant to head to theaters (something that many did not overcome until well into 2022)
The film came out right as the Delta variant of COVID-19 became a concern, with many opting to not visit the cinema out of an abundance of caution. 
Whatever the case, Marvel, Chloé Zhao, and the entire Eternals cast and crew can see this as a win, as their MCU blockbuster stands as one of 2022's biggest streaming films. 
Eternals can be streamed now on Disney+.