With all the big news about the upcoming DCU reboot, which included new films for Superman, Batman, Booster Gold, and more, fans of Marvel Studios and the MCU have started to voice their thoughts on the matter.
After a long, agonizing wait, the world now knows how the new DCU will start up. Its first Chapter (like Marvel Studios' "Phases"), titled "Gods and Monsters", will begin with ten projects across various mediums; movies, television, and animation. 
After that, Gunn revealed that there are more projects before Chapter 2 arrives, but they won't be revealed until a later date.
Needless to say, most DC Comic fans (except for a certain group of individuals) are pumped by where this plan could go. But what do Marvel fans think?
Marvel Fans React to DC Studios' Chapter 1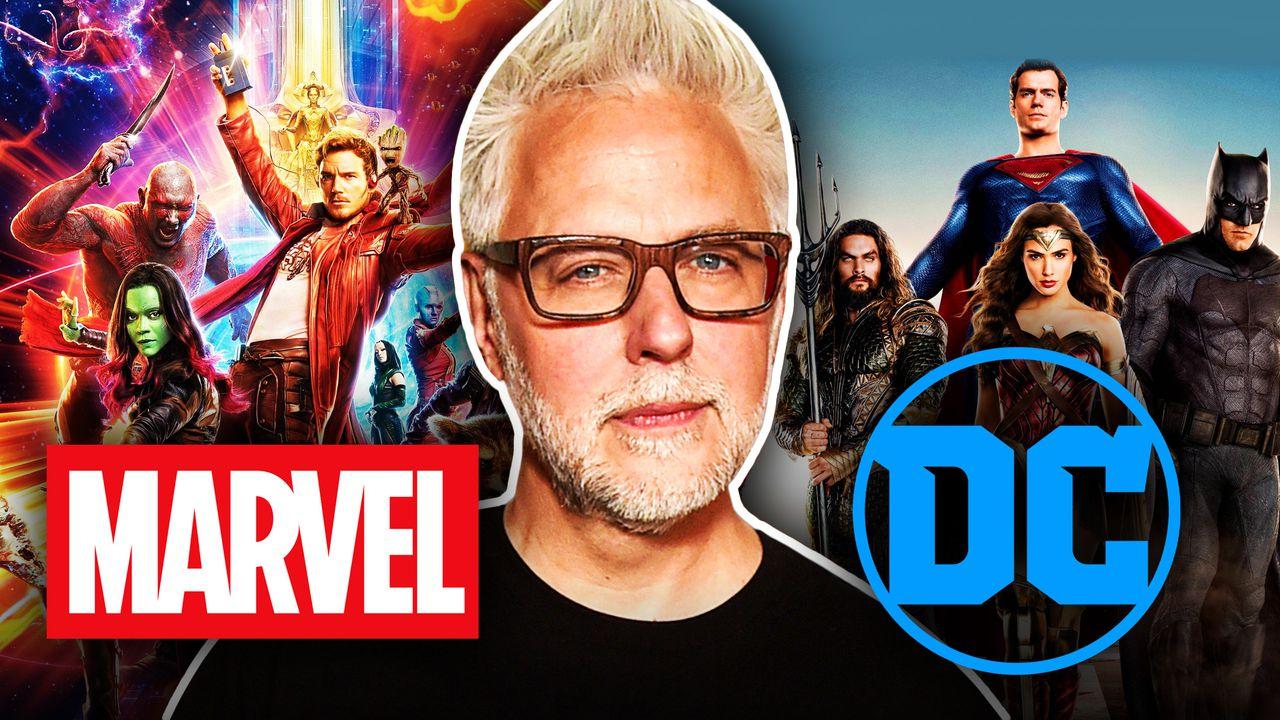 After the big announcement of James Gunn and Peter Safran's first set of upcoming DCU projects, Marvel fans have started to voice their reactions - some positive, some negative - to the big news.
@BatmanXB117 on Twitter shared their excitement for "both Marvel and DC," and that they "do have some hope for the new DC Universe:"
"I'm excited. I enjoy both Marvel and DC though, yes I still enjoy Marvel. With James Gunn I do have some hope for the new DC universe but we gotta see how he can handle A list heroes because he's mainly brought D list heroes and made them big."
In response to James Gunn's announcement video, @TripleOmusic, who "love[s] the Marvel films," admitted that all the news "brought a smile to [their] face:"
"Now this brought a smile to my face. As much as I love the Marvel films, it's about time DC showcased what they could really do."
@ficio84 made it very clear that they love Marvel above all, saying that DC's announcement is "a fool thing," and that "DC is totally out of control:"
"It's a fool thing. DC is totally out of control. Marvel Will destroy It easily."
The same user congratulated James Gunn "for destroying a fantastic universe" for his new DCU:
"... Thanks gunn for destroying a fantastic universe for "this". DC is finished for me. Now Marvel is 10 times better."
Not all Marvel fans are completely against the DCU, though. @jessenoord admitted that "now seems like a good time to look into DC too:
"I swear by Marvel but now seems like a good time to look into DC too."
@AppsConnor noted that "DC is looking to pose some damn good competition for Marvel in the next few years:" 
"I'm ngl, DC is looking to pose some damn good competition for Marvel in the next few years... I might be going from an MCU kid/teen/young adult to a DCU man lol"
@bjtxen admitted how he was confused about the canonicity of this year's upcoming movies, such as The Flash, Aquaman and the Lost Kingdom, and Shazam! Fury of the Gods:
"I'm a little unclear about what is DCU & what isn't DCU (other than the Elseworlds movies). I was unsure about Gunn's comments regarding Shazam 2, Aquaman 2 & such He said Flash resets the universe right? but Aquaman 2 follows it... Peacemaker characters staying too Thoughts?"
@NativeKnight7 didn't seem to understand why anyone would be choosing the DCU over the MCU:
"Quickest way to lose me is choosing DC over Marvel, cause BE [FOR REAL]."
Another Twitter user, @HausVonSchlegel, says that the MCU "would benefit" from the competition DC Studios would provide:
"Marvel and the genre in general would benefit from a strong DC resurgence."
@ZeltraxMilleniu admitted that "the direction of [the DCU] isn't what folks expected" but that it could be "something incredible:"
"With everything happening with DC, I just want to say this - I love the DC movies, and I love Marvel movies. I look forward to these movies as an escape, and while the direction of DC isn't what folks expected, we could see something incredible in the future, same with Marvel."
Last but not least, @nopullup_ threw out an unexpected suggestion:
"Marvel [Studios] should release the casting for the Fantastic 4 to get even with DC lol..."
Be Happy for Both the MCU and DCU
It's important to remember that both the DCU and MCU can exist together. In fact, it would be a perfect world if both parties had quality interconnected cinematic universes unfolding.
In other words, it's okay to love both. It's not meant to be one or the other—both worlds have endlessly fascinating stories to tell and characters to introduce.
By the time the DCU really starts to get moving, Marvel Studios is likely to be working on big adjustments to its own cinematic universe. With 2026's Avengers: Secret Wars, the MCU will almost certainly start integrating the X-Men and their stories when the big event film comes to a close.
The amount of lore and characters that the X-Men's mythos has is astounding and could make the MCU feel brand new. This also would put it in the perfect place to compete with DCU as it starts to grow.
Most importantly, however, is that both would be getting perfect new starting points for audiences that may not have fully kept up with everything prior.
Superman: Legacy, the first film in the proper DCU, will release on July 11, 2025.