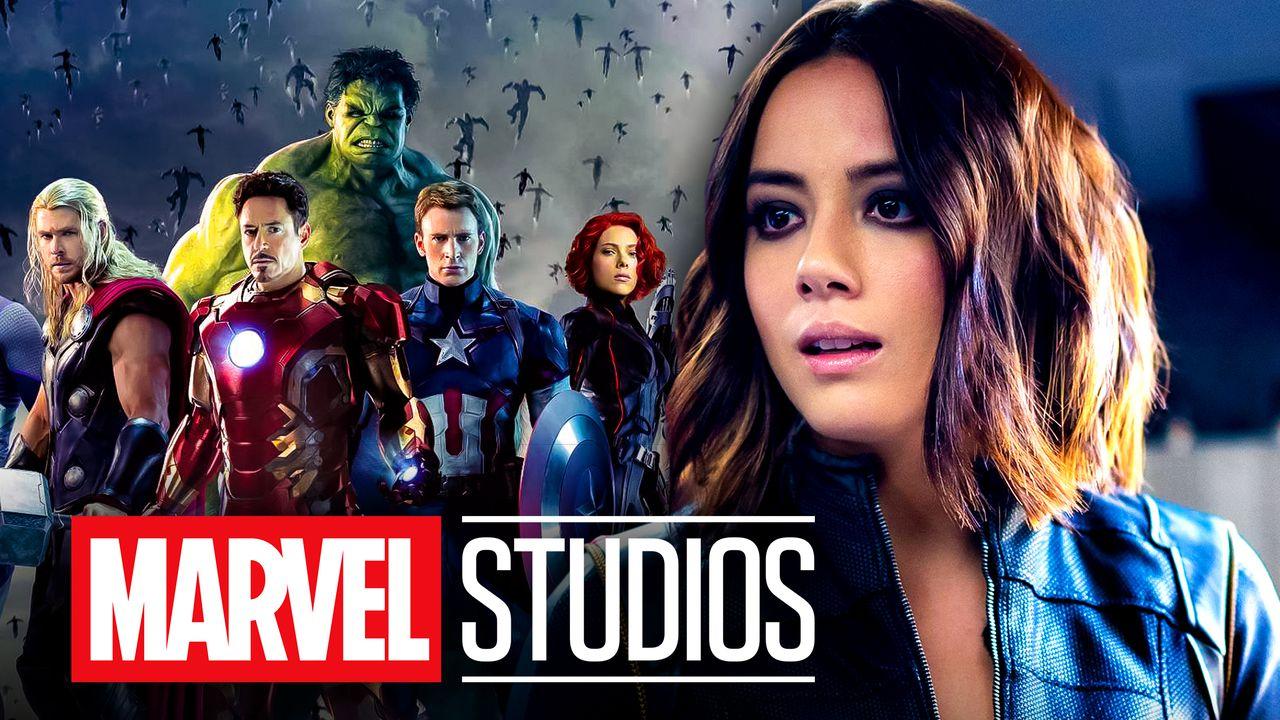 Agents of SHIELD's Quake actress Chloe Bennet might have just teased her return to the MCU amid rumors of a Disney+ comeback.
Agents of SHIELD may have been created as a piece of the MCU puzzle, but its canon status has since been called into question after a seven-season run. The same was also said for Marvel TV's other projects like the Netflix shows, so as the Defenders make a comeback to the MCU, could the agents of SHIELD be next?
Perhaps the character fans are most eagerly calling to see return to the MCU is Chloe Bennet's Daisy Johnson, aka the super-powered Inhuman Quake. But unfortunately, when Bennet last responded to rumors of a Disney+ return in February 2021, the answer was a tragic, "I wish."
The actress has since continued to spark up whispers of an MCU return, including when she met up with Shang-Chi actor Simu Liu. Bennet may have even dropped a sly hint in an Instagram post where she had a daisy - the flower from which her MCU agent was named - tucked into her sock. 
Agents of SHIELD Actress Potentially Teases MCU Return
Responding to criticism of her performance in Agents of SHIELD, Quake actress Chloe Bennet may have teased that she will be returning to the MCU in a future project.
Quote-retweeting a post referring to her saying that "the best acting on a soap opera isn't really a major accomplishment," Bennet shared her feeling that the hateful tweets "aren't going to age well:"
"hey man, you seem like a…mean loser?also, i have a strong feeling your tweets aren't going to age well."
Bennet's response was to the final tweet of a back-and-forth interaction between Charles Murphy (of Murphys Multiverse) and one of his followers, which started with him saying that he cannot imagine Bennet sharing the screen with MCU talent such as Florence Pugh, Hailee Steinfeld, or Samuel L. Jackson:
"I've said this before and will say until I see something to change my mind: I can't imagine Bennet sharing the screen with talent like Florence Pugh, Hailee Steinfeld or Samuel L. Jackson (could keep going). Just not the same caliber of actress." 
This means that Bennet may not necessarily be saying that Murphy's comments about her returning to the MCU "aren't going to age well," but rather those saying she wouldn't be sharing the screen with actors of that caliber. Perhaps she may be referring to her acting alongside Pugh, Steinfeld, Jackson, or another actor of that caliber in a project outside the MCU.
The MASSIVE Baggage of Canonizing Agents of SHIELD
The consequences of bringing Chloe Bennet's Quake back to the MCU go far beyond just seeing the return of a beloved Agents of SHIELD hero. Not only does that effectively canonize seven seasons of Marvel storytelling with ties to all corners of the MCU, but it also formally makes the Inhumans canon to the franchise.
While the Inhuman royal family was explored in a universally-hated ABC event series, Agents of SHIELD dived deep into the super-powered beings around the world - Bennet's Quake among them. However, the Inhumans have never been acknowledged or shown to exist on Earth-616 in the MCU proper.
Bringing back Quake comes with a host of opportunities, but also raises plenty of questions as there are justifiable reasons to question the canon status of Agents of SHIELD. Perhaps the simplest solution would be to take the Daredevil approach in bringing back Quake but avoid acknowledging the past.
So, if Bennet is hinting that she is on her way back to the MCU for a future project, then where exactly could she fit into place? Secret Invasion has been one popular choice given Quake was last seen heading into space, potentially as part of SWORD, so she could fit into the spy thriller rather smoothly.
Marvel Studios did manage to sneak Daredevil in Spider-Man: No Way Home without revealing it ahead of time - leaks aside - so perhaps Quake's return could similarly come with a shock cameo. Only time will tell what the future holds for the Inhuman SHIELD agent, but things may be finally looking up.
All seven seasons of Agents of SHIELD are streaming now on Disney+.